Posted by Cory LIst on 17th Sep 2015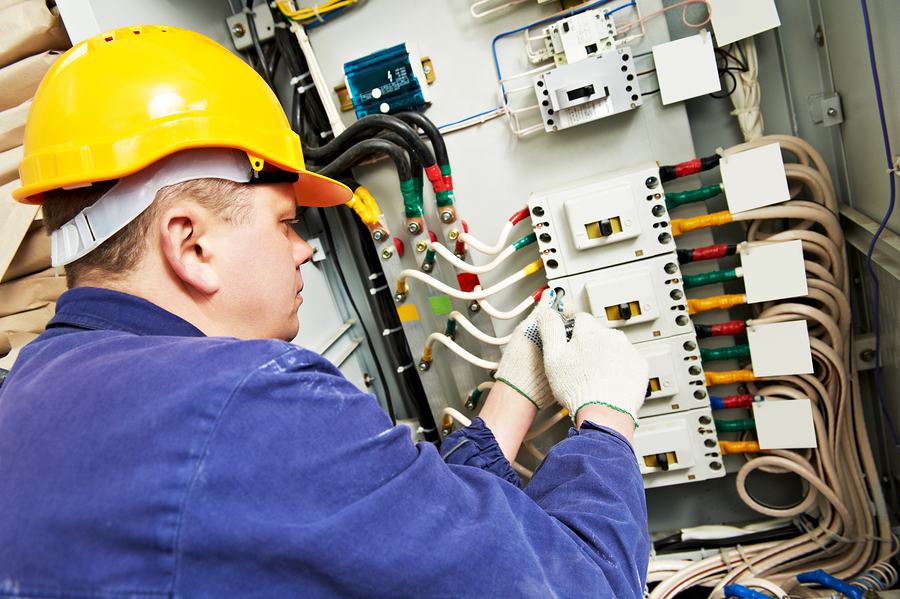 Almost all homes and businesses have an electrical system that power their lights, appliances and equipment and it is an electrician's duty to do the installing and maintaining of all electrical circuits and wiring in these respective buildings.
Electricians work for various companies and carry out a number of tasks. The job requires working in all conditions at any time since the electrical systems may need maintenance at erratic times in different areas. A lot of physical work is needed but a good knowledge and attention to detail are also critical in this occupation.
In 2012, there are about 583,500 electricians in the United States of America. Sixty one percent of which were hired in electrical contractors and other industries in wiring installation contractors while nine percent are self-employed. Almost all electricians work full time but self-employed electricians have a more flexible schedule.
Becoming an electrician
Most electricians begin through apprenticeship while some attend technical schools. Technical schools offer programs related to basic electrical information, circuitry, and safety practices. Graduates receive credit toward apprenticeship.
To enter an apprenticeship program, trainees must be at least 18 years of age. A high school diploma or any equivalent to it is required. Completion of one year of algebra is also needed as well as a qualifying score on an aptitude test. They must also undergo and pass a substance abuse screening. Candidates may apply through unions like the International Brotherhood of Electrical Workers.
Apprenticeship programs usually last from four to five years. Every year, apprentices must complete at least 600 hours of technical training. Classroom training includes blueprint reading, electrical code requirements, electrical theory, mathematics, and safety and first-aid practices. There are also specialized training which include communications, elevators, fire alarm systems, and soldering. Apprentices also receive on-the-job training with the supervision of experienced electricians.
After completion of their training, electricians may be required to take continuing education courses related to changes to the electrical code, safety practices, and training from manufacturers in specific products. Those who complete the apprenticeship programs may be accepted to become journeymen and do construction and maintenance projects and can work for construction firms, service providers, or utility companies.
Understanding the different types of electricians
Electricians have different expertise and specialization. They can be residential, commercial, journeyman, or master electricians.
Licence Requirements
Most states in the USA require licensed electricians. The major purpose of which is to protect the health and safety of the general public from illegal and immoral actions. It is also the legal way of defining a profession.
Requirements vary by state. Training electricians are required to take an exam which would cover general knowledge, theories, and the National Electrical Code. NEC provides practical information on how to avoid electrical hazards and is considered as the foundation for electrical safety. The difference in testing in different states is in state-related questions and local rules and regulations. Some states require an exam on Business and Law for the contractor's license as well.
Electricians must provide proof of work experience and pay a fee to claim their license. The classification of licenses is categorized by type of electrical work or by level of experience such as journeyman and master electrician. There is a required number of continuing education hours every year and a given examination every period to maintain an electrician's license. All licenses also are to be renewed on a given date by the State. Automatic termination of license may be given due to failure of renewal.
Electricians must also acquire a professional certification. This can certify an electrician's knowledge and skills which may improve their employment and opportunities. All certifications require a qualifying score on a written examination and a performance evaluation.
The National Electricals Contractors Association website provide a summary of the licensing requirements of each state while listed below are contact information of Building Departments given by the Code Electrical website:
State of Alabama Electrical Contractor's Board
2777 Zelda Road
Montgomery, AL 36106
(334) 420-7232
http://www.aecb.state.al.us/
Dept. of Commerce & Economic Development
Division of Occupational Licensing
P.O. Box 110806
Juneau, AK 99811-0806
(907) 465-8443
The State Of Arizona
Registrar Of Contractors
1700 West Washington Street, Suite 105
Phoenix, AZ 85007
(602) 542-1525
http://www.azroc.gov/
State of Arkansas Department of Labor
10421 West Markham Street
Little Rock, AR 72205
(501) 682-4531
http://www.labor.ar.gov/aboutUs/Pages/contactUs.aspx
Department of Consumer Affairs
Contractors State Licensing Board
9821 Business Park Drive
Sacramento, CA 95827
(800) 321-2752
http://www.cslb.ca.gov/
The State of Colorado
Colorado State Electrical Board
1560 Broadway, Suite 1350
Denver, CO 80202
(303) 894-2300
https://www.colorado.gov/dora/boards_programs
TheState of Connecticut
Department of Consumer Protection
Occupational Licensing Division
165 Capitol Ave
Hartford, CT 06106
(860) 713-6135
http://www.ct.gov/dcp/site/default.asp
Division of Professional Regulation
Cannon Building Suite 203
861 Silver Lake Blvd.
Dover, DE 19904
(302) 744-4500
http://www.dpr.delaware.gov/boards/electrician/newlicense.shtml
Department of Business and Professional Regulation
Electrical Contractors' Licensing Board
1940 N. Monroe St.
Tallahassee, FL 32399
(850) 487-1395
Georgia Construction Industry Licensing Board
Division of Electrical Contractors
237 Coliseum Dr.
Macon, GA 31217
(478) 207-2440
http://sos.ga.gov/plb/construct
TheState of Hawaii
Professional and Vocational Licensing
P.O. Box 3469
Honolulu, HI 96801
(808) 586-3000
http://cca.hawaii.gov/
Division of Building Safety
Electrical Bureau
1090 E. Watertower St.
Meridian, ID 83642
(208) 334-3950
http://dbs.idaho.gov/
Department of Professional Regulation
320 West Washington St.
Springfield, IL 62786
(217) 785-0800
https://www.idfpr.com/Renewals/defaultSSL.asp
City of Indianapolis
Licensing Division
1200 Madison Avenue, Suite 100
Indianapolis IN 46225
(317) 327-4316
http://www.indy.gov/eGov/City/DCE/Licenses/ContractorLicenses/Pages/electrical.aspx
State Fire Marshal's Office
Electrical Examining Board
215 E. 7th Street
Des Moines, IA 50319
(515) 725-6147
http://www.dps.state.ia.us/fm/electrician/licensing/licensing.shtml
Division of Facilities Management
1000 S.W. Jackson Suite 500
Topeka, KS 66612
(785) 296-3011
http://admin.ks.gov/offices/ofpm
Electrical Licensing
101 Sea Hero Road, Suite 100
Frankfurt, KY 40601
(502) 573-2002
http://dhbc.ky.gov/bce/ei/el/Pages/default.aspx
State Licensing Board for Contractors
2525 Quail Drive
Baton Rouge, LA 70808
(225) 765-2301
http://www.lslbc.state.la.us/
Office of Licensing and Registration
35 State House Station
Augusta, ME 04333
(207) 624-8457
http://www.state.me.us/pfr/professionallicensing/professions/electricians/index.htm
Department of Licensing & Regulation
500 N. Calvert Street, Room 302
Baltimore, MD 21202
(410) 230-6270
http://www.dllr.state.md.us/license/elec/
The Commonwealth of Massachusetts
Division of Registration
1000 Washington Street, Suite 710
Boston, MA 02118
(617) 727-9931
http://www.mass.gov/ocabr/licensee/dpl-boards/el/
Licensing Division
P.O. Box 30018
Lansing, MI 48909
(517) 241-9320
http://www.michigan.gov/statelicensesearch/0,1607,7-180-24786_24811---,00.html
State Board of Electricity
443 Lafayette Road N
St. Paul, MN 55155
(651) 284-5026
State Board of Contractors
2679 Crane Ridge Drive, Suite C
Jackson, MS 39216
(601) 354-6161
http://www.msboc.us/
Codes Administration Department
P.O. Box 1335
Jefferson City, MO 65102
(573) 751-0293
http://www.pr.mo.gov/counselors.asp
Montana State Electrical Board
301 South Park, Room 430
Helena, MT 59620
(406) 841-2329
http://bsd.dli.mt.gov/license/bsd_boards/ele_board/board_page.asp
State Electrical Division
800 South 13th Street, Suite 100
P.O. Box 95066
Lincoln, NE 68509-5066
(402) 471-3550
http://www.electrical.state.ne.us/
State Contractors Board
2310 Corporate Circle, Suite 200
Henderson, NV 89074
(702) 486-1100
http://www.nvcontractorsboard.com/
Electrical Safety & Licensing
Division of Fire Safety
33 Hazen Drive
Concord, NH 03305
(603) 223-4289
http://www.nh.gov/jtboard/electricians.htm
State of New Jersey
State Board of Examiners of Electrical Contractors
P.O. Box 45006
Newark, NJ 07101
(973) 504-6410
http://www.state.nj.us/lps/ca/electric/
The State of New Mexico
Construction Industries Division
2550 Cerrillos Road
Santa Fe, NM 87505
(505) 476-4500
http://www.rld.state.nm.us/
NYS Department of State
Licensing Services
P.O. Box 22001
Albany, NY 12201
(518) 474-4429
http://www.dos.ny.gov/lcns/licensing.html
State Board of Examiners of Electrical Contractors
P.O. Box 18727
Raleigh, NC 27619
(919) 733-9042
http://www.ncbeec.org/
North Dakota State Electrical Board
1929 N. Washington Street, Suite A-1
Bismarck, ND 58507
(701) 328-9522
https://www.ndseb.com/
Ohio Construction Industry Examining Board
P.O. Box 4009
Reynoldsburg, OH 43068
(614) 752-7127
http://www.com.ohio.gov/dico/FileNotFound.aspx
Construction Industry Board
Electrical Division
2401 N.W. 23rd St. Suite 2F
Oklahoma City, OK 73107
(405) 521-6550
http://www.ok.gov/cib/
Construction Contractors Board
700 Summer St N.E. Suite 300
Salem, OR 97309
(503) 378-4621
http://www.ccb.state.or.us/search/
Bureau of Professional and Occupational Affairs
P.O. Box 2649
Harrisburg, PA 17105
(717) 787-8503
http://www.dos.pa.gov/
Rhode Island
State of Rhode Island Contractor's Licensing Board
1 Capitol Hill, 2nd Floor
Providence, RI 02908
(401) 222-1268
http://www.crb.ri.gov/
State of South Carolina
Licensing Board for Contractors
P.O. Box 11329
Columbia, SC 29211
(803) 896-4686
http://www.llr.state.sc.us/POL/Contractors/
South Dakota State Electrical Commission
308 S. Pierre Street
Pierre, SD 57501
(605) 773-3573
http://dlr.sd.gov/bdcomm/electric/default.aspx
State Of Tennessee Board for Licensing Contractors
500 James Robertson Parkway
Nashville, TN 37243
(615) 741-8307
Department of Licensing and Regulation
P.O. Box 12157
Austin, TX 78711
(512) 463-6599
http://www.tdlr.texas.gov/electricians/elecforms.htm
Division Of Occupational &Professional Licensing
160 East 300 South
Salt Lake City, UT 84111
(801) 530-6628
http://www.dopl.utah.gov/
State Of Vermont
Department of Labor and Industry
Attn: State Electricians Licensing Board
1311 U.S. Route 302 Berlin Suite 600
Barre, VT 05641-2351
(802) 479-7564
http://firesafety.vermont.gov/professions/electrical
Commonwealth of Virginia
Dept. of Professional & Occupational Regulation
9960 Mayland Dr.
Richmond, VA 23233
(804) 367-8511
http://www.dpor.virginia.gov/
Department of Labor and Industries
P.O. Box 44000
Olympia, WA 98504-4000
(360) 902-5269
Regulatory and Licensing Division
1207 Quarrier Street, 2nd Floor
Charleston, WV 25301
(304) 558-2191
Department of Safety and Professional Services
P.O. Box 8935
Madison, WI 53708
(608) 266-2112
http://dsps.wi.gov/Home
Department of Fire Prevention and Electrical Safety
Herschler Building 1 West
Cheyenne, WY 82002
(307) 777-7288
http://wsfm.wyo.gov/
Electrician by the numbers
According the the Bureau of Labor Statistics, the number of employment for electricians in the year 2012 was at 583,500. It was also reported that the number of opportunities for electricians is expected to grow 20% from 2012 until 2022 as the demand continues to get higher. The projected number of employees in 2022 would be 698,200. This increase in demand, however, will be compensated by the closing of older facilities.